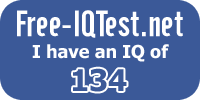 Free-IQTest.net -
IQ Test
OMGOSH REALLY WAN AH?
apparently so. not trustworthy. I go do so more.
Edit: Then I got 98 for the highsocietyIQ thing.
Then another one I Got 110..
LMAO. the first one definitely not right liao




And YET ANOTHER TEST. So far Ive done about.. lets see.... 6? Around the same la... but yeah. I have low IQ la seriously. plus that right, I spent two hours on facebook uploading pics.. people better thank me. I WASTED THE WHOLE DAY DOING NOTHING. starting work now. like a loser...



And whoopeedoo!! IM ONLY 44% dumb tho that is almost like... HALF. O.o shit